Your Priorities for South Northamptonshire
At the 2015 General Election I set out my 'ambitions for South Northamptonshire', based on the issues and concerns that you, my constituents, had raised with me on the doorstep. Whilst by no means exhaustive, the list outlined a number of priorities for residents across South Northants and continues to serve as a focal point for my efforts on your behalf. Now that we are about a third of the way through this parliament, I thought it might be helpful to provide an update on where we are with some of them, and what other issues have come up since May 2015.
Healthcare
It's been a busy start to 2017 already with a lot of local concern over maternity and stroke services at the Horton hospital and the Oxfordshire Clinical Commissioning Group's consultation on their Sustainability & Transformation Plan. I am working closely with my colleagues Victoria Prentis MP, Robert Courts MP and others to ensure that local residents' views are being heard, and I would encourage everyone to respond to the OCCG's consultation by April 9th.
Improving access to quality healthcare for people in South Northants continues to be a priority for me, and I aim to have a further meeting soon with Dr Philip Stevens, the clinical lead for South Northamptonshire on the Nene Clinical Commissioning Group, to discuss what we can do to improve outpatient services for our area.
Transport
Many constituents have contacted me about various transport matters. The two proposed strategic rail freight interchanges, Rail Central and Northampton Gateway, have caused concern amongst residents in Blisworth, Collingtree, Roade, Courteenhall, Grange Park and further afield. I have submitted responses to both developers' early consultations on behalf of my constituents and continue to raise residents' questions and concerns on the two proposals with appropriate persons. In the coming weeks I will be confirming the date and venue for a public meeting in Roade to discuss the Northampton Gateway SRFI with residents; please keep an eye on my website for more information.
The High Speed Rail (London - West Midlands) Bill is now in the final stages of its passage through Parliament and I know that many of my constituents who are directly affected are now looking for HS2 Ltd to get on with construction so that the disruption is minimised. My focus is on helping those constituents secure effective compensation and mitigation, and I continue to work with them, HS2 Ltd, and others to do this.
The Towcester Relief Road has been a doorstep issue for far longer than I have been your Member of Parliament and continues to be a key concern for local residents and commuters. I have been working closely with Cllr Ian McCord, the Leader of SNC, and others to highlight the pressing need for the relief road to be built as soon as possible.
I am pleased to announce that the Rt Hon. John Hayes MP, Minister for Transport, will be coming to The Forum in Towcester for a public meeting on Thursday February 23rd from 7pm to outline how this could be achieved. Due to capacity constraints in the Council Chamber, you will need to book your free ticket through the Eventbrite website.
Residents of Farthinghoe and those who use the A422 will be pleased to know that, following a public consultation, Northamptonshire County Council has added a bypass for the village to its list of major projects. The A422 Farthinghoe Bypass will be a new 2.3km single carriageway to the north of the village and work has begun on determining a preferred route. Funding has been allocated to undertake the technical work required to identify this, although further work (including construction) will require additional funding and this is not yet allocated. The campaign continues!
Potholes continue to be a huge problem in our area and I do encourage people to get in touch with me on any particularly bad ones; residents should also report potholes using NCC's Street Doctor tool. I was delighted to hear that we have been given £1.17m from the Government's Pothole Action Fund as part of the road investment in South Northamptonshire for 2017/18.
Broadband
Access to superfast broadband is a priority for residents across South Northants and some excellent progress has been made in a number of areas. The County Council has recently selected Gigaclear for two contracts to help deliver Stage 3 of their Superfast Northamptonshire project. This new partnership goes faster and further than previously anticipated by bringing ultrafast broadband (up to 1 gigabit per second!) to more communities and houses in parts of rural Northamptonshire. The network will reach rural areas where there are no commercial plans and which otherwise would be unlikely to be served. The two contracts involve £6.58m of public funding, including £1.68m from the Department for Culture, Media and Sport (DCMS) and £4.9m from the County Council. Gigaclear are also investing over £3.65m in the target area. To find out more about the Gigaclear project, please visit the Superfast Northamptonshire website where you can learn about some of the communities which will be served and see if your postcode can get Gigaclear (you can register your interest if you aren't yet in their plans!).
Strengthening Communities
I am running two projects aimed at improving our local communities: a coffee morning initiative and a focus on young people's priorities.
In rural South Northamptonshire there are many successful volunteer-led coffee mornings and my team has been working with areas where there is a need for more. I'm very keen to help volunteers looking to set up a local coffee morning, and you can find information on my website about planning a new one or about those that are already up-and-running.
My youth survey was aimed at asking young people under the age of 21 what their priorities are for their local area and what facilities and activities they would like to see improved. I had a fantastic response and my team is now in the process of analysing the results and matching funding initiatives for some of the priorities. On a wider scale, I have established a Community Development Steering Group with Cherwell & South Northants District Councils involving representatives from across our area with the aim of working collaboratively on behalf of young, elderly and vulnerable people.
NorPIP, the Northamptonshire Parent Infant Partnership family therapy charity that I founded in 2011 to support parents-to-be and parents with children under two to form stable relationships, continues to go from strength to strength. To find out more about the work that NorPIP does and how it could help you, please visit their website.
One of South Northamptonshire's many successes is our extremely low levels of unemployment. To support jobseekers into suitable work I set up two Job Clubs, one in Towcester in 2009 and one in Brackley in 2010. These are now run by South Northants District Council, meeting on alternate Tuesdays from 11.30am to 1.30pm, and continue to provide excellent opportunities across the area. If you need help changing job or finding a new job, you can find out more on SNC's website.
Wider Focus
I was very pleased earlier this year to visit some of our fantastic local farmers in South Northamptonshire in my dual role as constituency MP and Secretary of State for Environment, Food & Rural Affairs. You can read more about that visit here.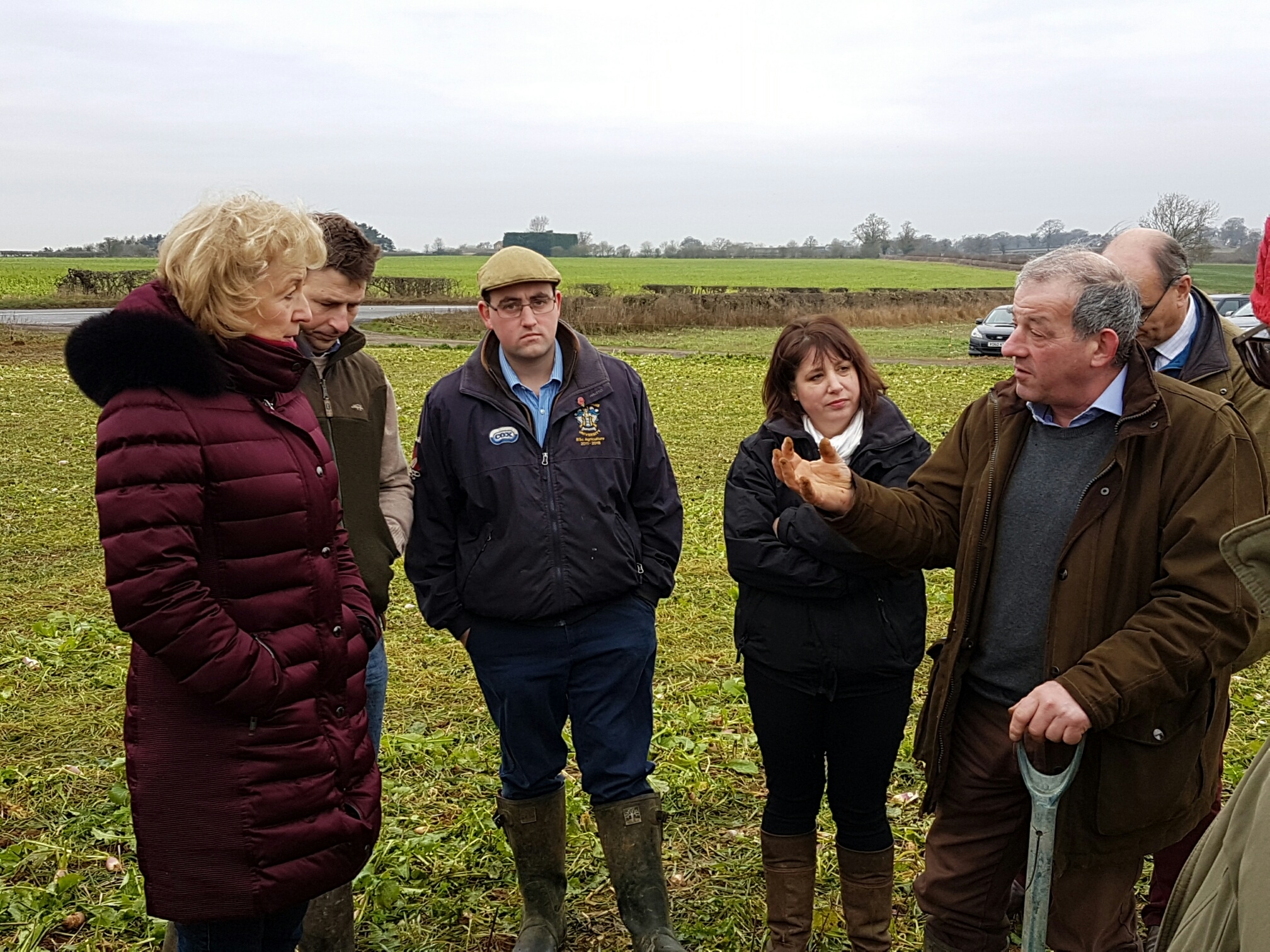 I am personally delighted that Parliament has now given its overwhelming support to implementing the people's decision on June 23rd to leave the European Union. The Prime Minister has been unequivocally clear that we will trigger Article 50 by the end of March 2017 and formally begin the process of negotiating our exit. I am proud to serve in her Cabinet and, however you voted in the referendum, you can rest assured that I am fully committed to securing the best possible deal for the UK, and I am optimistic we have a bright future ahead of us.
Transparency about my work and where your taxes are spent is very important to me, and I maintain a section on my website called Value For Money where you can see details and updates of my parliamentary expenses.
And, of course, I continue to be (and always will be) a supporter of the fantastic Saints! COYS!
Communicating With You
I am always striving to improve the ways that I communicate with my constituents and I aim to provide regular updates on matters of interest. You will have noticed that I have overhauled my website to ensure that you can more easily access my latest news, find surgery appointment details, and get directly in touch with me via the contact page. Any feedback on the "new look" would be welcome!
I also put updates out via my Facebook and Twitter accounts. I would really encourage you to sign up for email updates which I send out periodically; you can even subscribe to receive information only on the specific subjects that are of interest to you.
It is, as ever, an honour and a pleasure to serve you as your Member of Parliament and if I can ever be of any assistance to you on any matter then please do not hesitate to get in touch with me or my team.
Andrea Leadsom